Geodesic Dome Scene-Estrada Ø11m for John Digweed @ Pure Future 2009 Trakai, Lithuania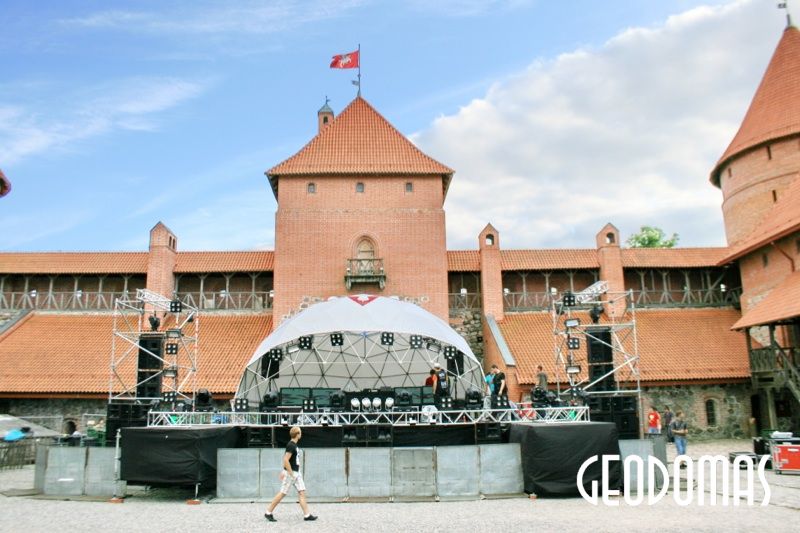 Second season of "PURE FUTURE", this time in the legendary castle in Trakai (Lithuania). A festival that brings together countless number of young lovers of electronic music.
Trakai is a historic city and lake resort in Lithuania. It lies 28 kilometres (17 miles) west of Vilnius, the capital of Lithuania. Because of its proximity to Vilnius, Trakai is a popular tourist destination. Trakai is the administrative centre of Trakai district municipality. The town covers 497.1 square kilometres (191.9 square miles) of area and, according to 2007 estimates, is inhabited by 5,357 people. A notable feature of Trakai is that the town was built and preserved by people of different nationalities. Historically, communities of Karaims, Tatars, Lithuanians, Russians, Jews and Poles lived here.

We produce the highest quality and top-level architectural projects for the commercial, housing, healthcare and education markets. Design and construction of space frames, domes, shells and free-form structures whose products meet the requirements of sustainable buildings. Geodomas maintains high engineering standards and talented management to consistently ensure that the design, construction and maintenance requirements of each design and application are accessible.

We ship resort structures around the world for all kinds of purposes. No matter where your resort or camp is located – whether on water, rocks, desert, sand, grassy plains, tropical beach, ice field or dense rainforest – we will ensure that it is designed, built and built to be environmentally and economically sustainable, secure and durable.
Additional Info
Object page:PURE FUTURE
Object address:Trakay, Lithuania
Technologies: Portable domes
Project date:2010
Floor area, m2:50
Cover area, m2:100
Geometry type:Icosahedron

ONLINE SHOP
Portable Domes
Our
Projects